Constipation: Cancer Complication in Cats
by Dr. Rachel Addleman, DVM, DiplABVP, CVA
Veterinarian and Certified Veterinary Acupuncturist, Dr. Addleman has advanced training and Board Certification in feline medicine. She practices in Houston, Texas and can be found at AnimalFixer.com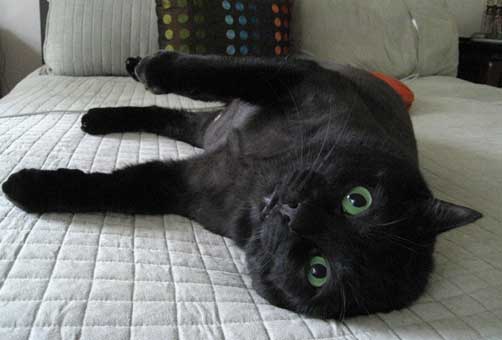 Andrew is a 12 year old cat with intestinal cancer. His cancer is in remission, but he suffers from constipation. The traditional treatment for constipation is oral medication, which was helpful, but Andrew resisted taking it. So Andrew's owner looked into animal acupuncture, which has been practiced in China for at least 2,000 years. Many clinical studies have documented the benefits of acupuncture.

Andrew's owner had limited knowledge of acupuncture but understood that acupuncture was more than randomly placing needles all over the body. Acupuncture is an exact treatment involving placing needles in local and distal sites. For example, if a patient has arthritis of the hips, local needles placed around the hip can provide significant pain relief. Longer lasting pain relief is often obtained by placing needles far away from the hips in distal points.

For Andrew's first treatment, his owner held him on her lap while needles were placed. This releases natural endorphins and calmed him. There are hundreds of acupuncture points grouped into meridians, which are channels connecting the points. Acupuncture points are used not only to treat but also to diagnosis illness. If a point is sensitive, the patient may have local pain or a problem with the meridian the point lies on. In Andrew's case, he was very sensitive over points on his back, which are associated with the intestines. Andrew didn't hold very still for his first treatment, which lasted fifteen minutes. After his first treatment, he slept most of the afternoon, as is common.

Andrew's follow up treatment was a week later. He was calm and slept during his second acupuncture treatment. By the third treatment, the owner was able to reduce his traditional oral medication and today Andrew rarely needs medication for constipation. Andrew seems to enjoy his acupuncture, which he receives every six weeks for maintenance.

Andrew is an example of how well animals accept and respond to acupuncture treatment. In addition to constipation, acupuncture can treat arthritis or an injury, and can help manage skin allergies, chronic vomiting or diarrhea, as well as balance the body when faced with cancer, kidney, liver, or heart disease.