Meet Linda
"Thank you for being so efficient in getting all of Jake's medical records requested, indeed this is one of the best front office experiences I have had at a medical provider - human or veterinary!" Dawn B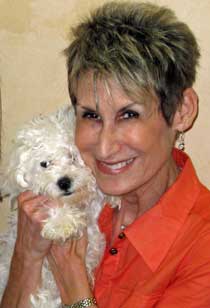 Linda's passion for animals led her to volunteer at the Kansas Humane Society for many years before coming to Houston. After moving to Houston, she and her loving companion, Chaya, a registered therapy dog, visited hospitals and nursing homes in the community.

Catching the agility bug, Linda trained Chaya for competition who won First Place in her first competition!.

Joining Houston Animal Acupuncture & Herbs in the summer of 2008, she provides exceptional care and love to all the patients as both an Office Manager and a Veterinary Assistant. Linda and husband Nat share their home with three very special felines Isaac, Amos and Hershel.