The Role of Omega 3 in Our Pet's Diet
by Dr. Rachel Addleman, DVM, DiplABVP, CVA
Veterinarian and Certified Veterinary Acupuncturist, Dr. Addleman has advanced training and Board Certification in feline medicine. She practices in Houston, Texas and can be found at AnimalFixer.com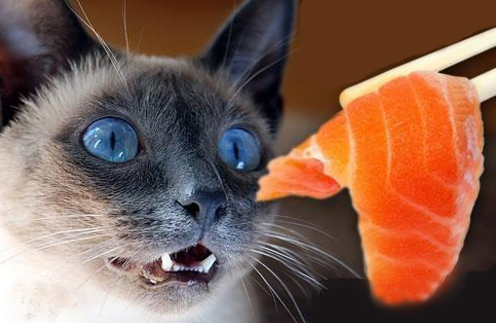 Fish contain a fatty acid called omega-3, which is an important component of cell membranes. Omega-3 fatty acids helps to control inflammation in the body. Humans, dogs, and cats cannot synthesize omega-3 fatty acid so we must eat it.

Omega-3 fatty acids are derived almost exclusively from fish. Supplements are typically called "fish oil". If you don't like taking pills, then eat the fish itself. The amount of healthy omega-3 in herring is very high, as are sardines, salmon, whitefish, tuna, and trout. Google your favorite fish to see how much omega-3 it contains.

Many companies sell fish oil supplements for your pet, and your veterinarian can help you pick the right one with the correct dose. A few other facts about omega-3 fatty acids:

Omega-3 fatty acids help combat inflammation in the body and the best source of omega-3 is fish oil.
Fat sources typically used in pet food formulations such as animal fat, poultry fat, and olive oil are excellent sources of omega-6 fatty acids, but poor sources of omega-3 fatty acids. You would not need to supplement omega-6 for most pets.
Omega-6 fatty acids must be balanced with omega-3 fatty acids for optimal health. High amounts of omega-6 fat in the diet can lead to ill health.
Currently, only a few pet food diets are supplemented with enough omega-3 fatty acids to provide the current suggested omega-3 to omega-6 balance. Ask your veterinarian for guidance in supplementing.
Asthma:
Cats with experimentally induced asthma were supplemented with omega-3, and the internal chemicals that help to inhibit airway inflammation were increased.
In cats, airway responsiveness also decreased, suggesting a beneficial effect of omega-3 in cats with asthma.
Allergies:
Pet studies indicate an improvement in itchy skin after starting fatty acid supplements.
Diets supplemented with fatty acids helped dogs have less itching, fewer allergic skin lesions, and they required less topical medications to control their allergies.
Arthritis:
A study in rats showed a delayed onset of arthritis when supplemented with omega-3.
In dogs with arthritis, omega-3 supplementation resulted in an improvement in ability to rise from a resting position and an improvement in walking.
A study in dogs supplemented with omega-3 showed a decrease in the chemicals that cause cartilage destruction.
Diabetes:
Obese cats consuming diets high in omega-3 had improved glucose control and increased insulin concentrations.
In humans, diets rich in fish oils are associated with a delay in the development of glucose intolerance.
Gastrointestinal Disease:
In human patients with colitis and inflammatory bowel disease, omega-3 supplemented patients had reduced colon inflammation and patients were able to control their symptoms longer.
Heart Disease:
In dogs with dilated hearts, supplementing with omega-3 reduces inflammatory chemical production and those patients showed less muscle wasting.
In one study with Boxers, supplementation decreased arrhythmias (abnormal heart rhythm) after 6 weeks.
Supplementation in dogs with heart failure increased survival time.
Omega-3 fatty acids are thought to decrease platelet aggregation, which might help prevent blood clot formation.
Kidney Disease
In dogs with kidney disease, patients eating diets high in omega-3 had lower mortality and better kidney function than dogs that ate diets high in omega-6 fatty acids.
Special thanks to Patricia A. Schenck, DVM, PhD for compiling the studies noted above.